During these damp and chilly winter months, Port is a good beverage to enjoy while sitting in front of a roaring fire or to pair with a course of Stilton Cheese and almonds after dinner or 'just because.' It is one of my favorite fortified wines and crafted in varying styles and quality.
The grapes are grown in steep vineyards that wind along the Douro River in Northern Portugal all the way East toward the Spanish border. The soils are stony shist that split vertically (rather than the typical horizontal orientation) which enable the roots to reach deep in search of water (irrigation is only allowed in exceptional circumstances). The slopes are incredibly steep (more than 30 per cent), which makes vineyard layout challenging, and are further limited by granite bedrock which is impenetrable. Granite surrounds the vineyards planted in the stony soil creating a natural barrier and preventing expansion.
Traditionally, the vines were grown on narrow terraces held in place by walls of dry rock.  Much labor is needed to maintain these walls and hand harvesting is necessary and expensive.  Most are now protected by UNESCO and cannot be converted to other layouts.  It is a beautiful sight to gaze upon these terraced vineyards from a patio along the Douro.  In the right light, the view is absolutely stunning with the reflections from the river.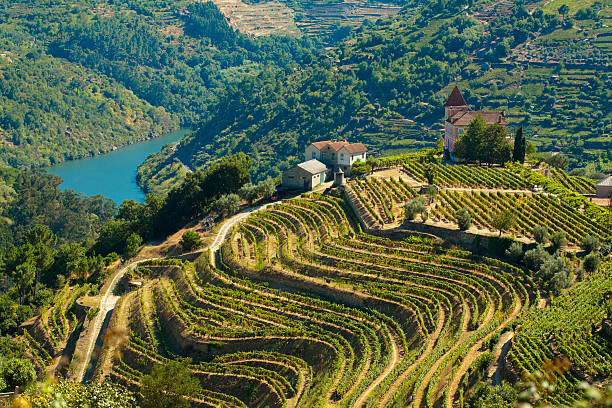 There are also terraces supported by steep earthen ramps that allow for small tractors, but erosion and growth of weeds on the ramps is problematic. As these ramps are narrow and follow the contour of the hillsides along the winding Douro, a change in direction or dip in the hillside, can create different microclimates resulting in uneven ripening.
Vines can also be planted in vertical rows up the hillsides but are limited as hillsides above a 40% incline cannot support mechanization. In Portugal today, it is difficult to find labor to be able to maintain the vineyards and for harvest.
While there are more than 100 grape varietals permitted in the production of Port, the focus is generally on five main grapes:
Touriga Franca – the most grown varietal
Touriga National – used for premium, long aged wines
Tinta Roriz – the Tempranillo grape in Spain (think Rioja)
Tinta Barroca – high yielding and earthy
Tinto Cao – high acidity and ability to age
Port is made by blending different varieties, vineyards, and field blends (vines of different varieties planted in a vineyard and fermented together). Fruit from old vines is used in premium wines but some can be crafted from all old vine grapes.
Once the grapes are harvested, they are taken to the winery, placed in Lagares (large, shallow tanks generally made of granite) for fermenting and extraction. The process of extraction is accomplished by various methods including:
Traditional foot treading (preferred as human feet do not split the seeds allowing bitter phenolics into the must)
Mechanical Lagares with silicon 'feet'
Pumping over (a method to keep the 'cap' wet but not as effective at extraction as foot treading – human or mechanical)
Punching down the 'cap' with stainless steel pistons
Auto vinification in stainless steel (like pumping over mechanically but electricity not required; less effective and generally used for lighter color and lighter bodied wines)
The wine is then drained off the skins and fortified to 19 – 22% abv which stops fermentation (yeast cannot live above 16.5% alcohol). The spirit used for fortification is aguardente which can add character and flavor to the wine.
Maturation begins in the Douro where the wine spends its first year. Historically, the maturing wine was sent to Vila Nova de Gaia across the river from Oporto for further ageing; however, with the increase in tourism, some producers have built well insulated, humidity-controlled lodges in the vineyard areas.
While a ruby port can become a tawny, a tawny port can never be a ruby! Therefore, we will explore red wine, or unoxidized wine employing protective winemaking practices, on its journey to becoming Port wine.
Grape growing is just a form of farming and dependent upon the weather during the growing season, the canopy management techniques employed and the final ripeness of the grapes. The quality of base wine and the form of maturation will ultimately determine the style, quality, and price of the finished wine.
Ruby Port – is produced using protective winemaking techniques to retain the primary fruit flavors in the wine. It is medium bodied, has medium tannins, red and black fruit characteristics, and is aged for a maximum of three years. It is a blend of more than one year (non-vintage) and has a consistent taste from year to year. The wines generally have simple fruits aromas/flavors and may exhibit a slightly harsh alcohol character. Some examples of ruby ports are Cockburn's Fine Ruby, Graham's Fine Ruby Port, Porto Valdouro Ruby Port, and Fonseca Bin 27.
Reserve Ruby Port – higher quality than Ruby Port and must be tasted and approved by the IVDP's tasting panel. They are generally more concentrated and of higher quality and price than a basic Ruby Port. Some examples of Reserve Ruby Ports are: Sandeman Founders Reserve Port, Quinta Das Carvalhas Ruby Port Reserva, and Croft Reserve Ruby Port.
Crusted Port – this is a non-vintage wine that has been aged in wood for two years before bottling. The wine is not fined or filtered and thus leaves a 'crust' to form in the bottle over time. This was created to provide a full-bodied, traditional style that emulates vintage port but at a lower price point. It does need to be decanted before serving. The bottling date must appear on the label and while it can be released any time after bottling, after three years of bottle age it can include the term 'bottle matured' on the label. Some examples of Crusted Port are Dow's Crusted Port, Smith Woodhouse Crusted Port and Niepoort Porto Crusted.
Late Bottle Vintage (LBV) – produced from a single year which must be bottled between four to six years after harvest. While a vintage product, it is not the same quality as a Vintage Port. LBV ports have been aged and bottled ready to drink, are filtered and can be drunk without decanting. Some examples of LBV ports are Quinta das Carvalhas and Taylor Fladgate.
Late Bottle Vintage (LBV) 'Unfiltered' – while an extension of the LBV, these wines are not filtered before bottling and tend to be fuller bodied. It will state 'unfiltered' on the label. Additionally, if bottled after four to five years and then held for at least three years in bottle before release, the bottle will be labeled with 'bottle matured.' These are a step up from LBV and can taste similar in style to young vintage port. Some examples are: Warre's Late Bottled Vintage Port Bottle Matured and Niepoort LBV 2015 Unfiltered.
Single Quinta Port – when the weather has not been suitable to produce grapes of sufficient quality, a producer will not make a vintage Port. Instead, they may choose to produce a Single Quinta Port, which is wine from one vintage, grown on the Port house's finest single vineyard estate (quinta). Some examples of Single Quinta Port are: Sandeman Quinta do Seixo Port Cima Corgo 2013 and Symington Family Estates Quinta do Vesuvio Port 2003.
Vintage Port – wines from one 'declared' vintage where grapes and resulting wine are of exceptional quality. Producers must register their intention to release a vintage port in the second year after harvest and the wine must be approved by the IVDP tasting panel. In their youth, they are deep in color and full bodied with high levels of tannins and pronounced intensity of black fruits and floral notes. Over time, the wines develop flavors of dried fruits, nuts, and the alcohol and tannins integrate. Some examples of Vintage Port are Quinta do Noval Vintage Port 2014, Ramos Pinto Vintage Port 2017, and Graham's Stone Terraces Vintage Port 2017.
So many wonderful Port style wines to try! You can taste the progression of flavors and intensity from Ruby to Vintage, and there is something for everyone to enjoy no matter your style preference or the size of your purse. Ruby style ports will not last more than a couple of days once opened and a bit longer if you put them into the refrigerator. While a 750ml bottle may be a bit too much to consume quickly, why not try a 'split' (375ml) if you are thinking LBV or Vintage. It is a great way to enjoy that Port in front of a roaring fire or after dinner.